5:00
5:30
6:00
6:30
7:00
7:30
8:00
8:30
9:00
9:30
10:00
X
The Booty Movement Coalition
5:15 - 6:15
YouTube
The Booty Movement Coalition (BMC) is the brainchild of renowned Chicago-based jazz and funk siren, Typhanie Monique, who created it to bring together some of Chicago's most talented and diverse musicians from all genres to give music fans from all over Chicagoland an experience sure to treat their mind, body & soul. Expectations for what jazz is, what hip-hip is, go out the window as the improvisation plays out on-stage. Songs morph from concepts as obscure of off-the-wall as pancakes into avant-garde blends of beats, sounds and rhythms created instantaneously by this collective of talented musicians.
Take a class with Old Town School Teaching Artist Typhanie Monique of Booty Movement Coalition.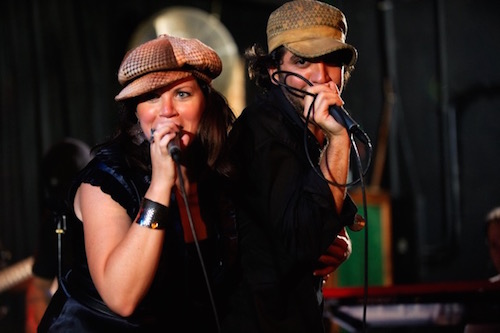 X
My Brightest Diamond
6:45 - 7:45
YouTube
www.mybrightestdiamond.com
Not many people can front a rock band, sing Górecki's Third Symphony, lead a marching band processional down the streets of the Sundance film festival and perform in a baroque opera of their own composing all in a month's time. But Shara Nova can. Her multi-faceted career as My Brightest Diamond, which began with an acclaimed independent rock record, has reflected her journey into the world of performing arts. Born in diamond rich Arkansas and then raised all around the country, Nova came from a musical family of traveling evangelists. She went on to study operatic voice and then classical composition after a move to New York City leading to such disparate and interesting collaborative projects with Laurie Anderson, The Decemberists, David Byrne, Bon Iver, The Blind Boys of Alabama, and more.
Dessa
8:45 - 10:00
Hip-Hop
X
Dessa
8:45 - 10:00
YouTube
http://www.doomtree.net/dessa/
Dessa is a rapper, a singer, and an essayist with the Doomtree collective–the ascendant Minneapolis hip-hop crew. She's landed on the Billboard Top 200 list as a solo artist (Parts of Speech) and as a Doomtree member (All Hands), and has made a career out of bucking traditional genre designations–rapping at Lollapalooza, arranging for full choir, and co-writing classical works for an orchestra. As a writer, she's contributed to MPR, the Star Tribune, literary journals around the country, and has published two short collections of her own.